In France, a giant corn maze to raise awareness of regenerative agriculture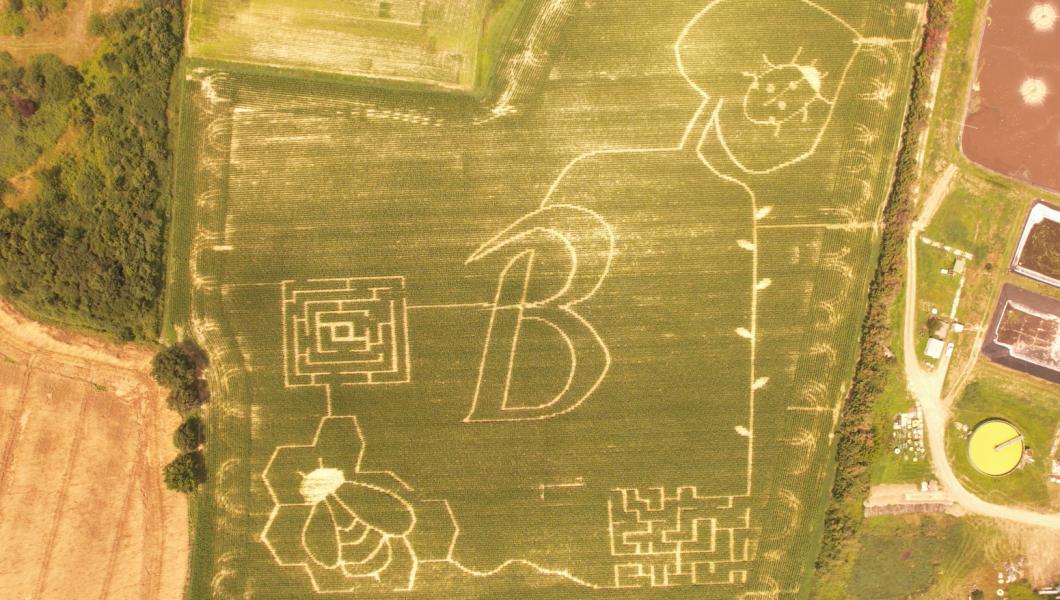 This giant maze was created in record time on a 6-hectare field belonging to Soléal, located near the factory in the commune of Bordères-et-Lamensans in France. Four Bonduelle agronomists imagined the site, and were joined by volunteer employees from the Bordères factory to work on the realization, with the aim of being ready and visible for the Tour de France's passage through Grenade-sur-l'Adour on July 4.
Very involved in the local community, Bonduelle also received the support of the Community of Communes of the Pays Grenadois, for whom this structure is a fine example of local mobilization in support of the development of tourism in the area.
Created to last, it should eventually welcome the public to share a playful and educational moment around regenerative agriculture, which is one of the keys to sustainable development, in a context of climate change requiring resilience. You'll need to cover 1,500 meters without making a mistake to reach the exit of the labyrinth. Educational content will be provided along the way: biodiversity, presentation of different vegetables and pulses, pollinators (including bees), etc.
In partnership with the Community of communes of the Pays Grenadois and the Tourist Office, 3 days for the general public to visit this new labyrinth on July 17, August 1 and and August 21, with registration at the Tourist Office.
What are the key principles of regenerative agriculture?
Regenerative agriculture is based on six principles: maintaining or increasing soil organic matter and minimizing its disturbance, keeping the soil covered to limit erosion, maximizing crop and ecosystem diversity, using resources and inputs sparingly, and of course, supporting farmers by training them in regenerative agriculture.
At Bonduelle, our partner farmers apply agricultural practices such as crop rotation. This means avoiding cultivating the same vegetables for two years in a row, to give the soil time to regenerate. Minimizing chemical inputs and the carbon footprint of production, and using the right amount of water. To limit the use of fertilizers and pesticides, whenever possible we develop natural or mechanical ways of combating pests and diseases: insect netting, mechanical weeding… The same goes for fertilization: plant cover, crop rotation… We have precise control over watering thanks to selected irrigation techniques such as drip irrigation and precision nozzles on pivots. New technologies enable us to be even more economical by carrying out a water balance for each plot. And this helps to preserve, restore or improve soil health.
Bonduelle in the South-West
Created in 2005 as a joint venture between Bonduelle, Euralis, MaÏsadour and Vivadour, Soléal comprises 2 sweetcorn and vegetable preparation sites in south-west France (Labenne and Bordères-et-Lamensans) and employs 460 full-time equivalent staff. Vegetables: garden peas, sweetcorn, green beans, chickpeas, lentils, dried beans are grown by 3OO producers belonging to the 3 cooperatives Euralis, Maïsadour and Vivadour, on 12,500 hectares around the plants.