Sun powers Santarém plant !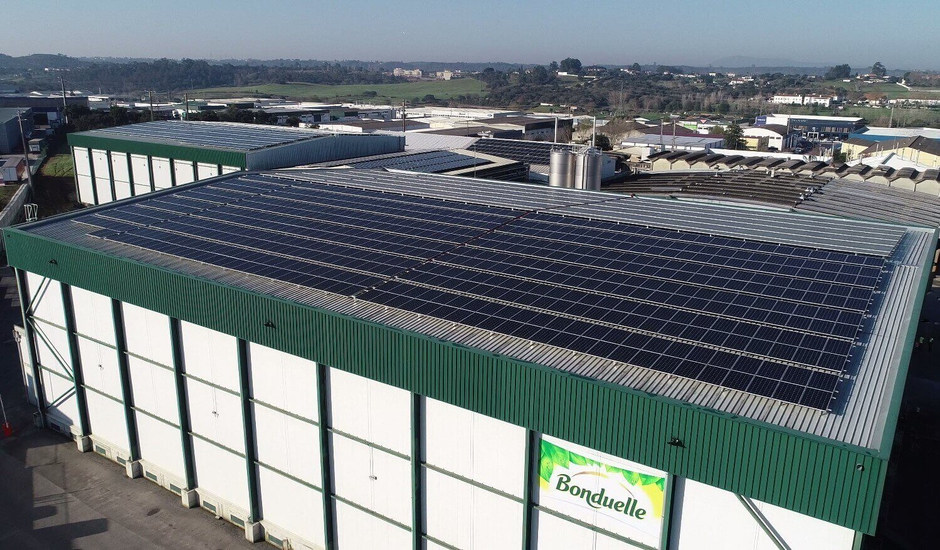 ALL OUR ENERGY IN THE SERVICE OF THE FUTURE!
In line with the B!Pact and B Corp processes undertaken by the Bonduelle Group, the Santarém plant in Portugal launched a CSR project to produce energy using photovoltaic panels. The objective: reducing its energy purchases and CO2 emissions in order to feed the present while protecting the future.
PRACTICAL SOLUTIONS FOR A GREENER WORLD
Initiated and approved by the GMC in 2018, this project, implemented in 2019 saw the installation of a 5,000 m2 roof composed of photovoltaic panels. With over 3,000 solar panels installed, the company was able to decrease its energy purchases by 8% a year (a savings of 1,200 megawatts) all while accelerating the reduction of its CO2 emissions (570 tons). In order to give more visibility to the project – and respond to staff requests for covered parking – the solar panels were installed on the roof over the plant's parking lot.
A PROJECT WITH A BRIGHT FUTURE
In just 3 years, photovoltaic energy has largely been democratized. Since the price of solar panels is more affordable, other projects of this type should see the light of day at Bonduelle, particularly at Bonduelle Europe Long Life. Today, the Santarém plant is proud to have initiated this project within the group: a big thanks goes out to the teams mobilized in this adventure, led by Vergilio Martinho, Santarém Technical Manager.