Packaging that's a hit across the (card)board! – Bonduelle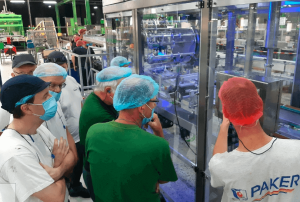 One of Bonduelle's core values, respect for theenvironment is now being extended to the new packaginglines at our Renescure plant in France. Plastic will soonbe a thing of the past in the excess packaging of batches,with cardboard gradually replacing it for both ourcustomers' brands and our own.
INVESTING IN MORE RESPONSIBLE PACKAGING
New design, new material: by using card board boxes to pack batches of two or three 1/4 cans, we are working toward our objective of eventually eliminating plastic packaging. It is the first step in favor of the environment and one that required significant investments since we had to stop our entire production line to be able to integrate a new box packing machine.
AN INITIATIVE IN LINE WITHOUR OBJECTIVE TO OFFER 100%RECYCLABLE OR REUSABLE PACKAGING
"This project, which began 18 months ago, is in line with Bonduelle's desire to offer products that are increasingly ethical and responsible."Led by Olivier Ponthieux, Engineering Director at BELL, themultidisciplinary teams signed the European Plastics Pact and are committed to offering packaging designed to be 100% recyclable orreusable by 2025.
FIRST RENESCURE, NEXT BORDÈRESAND NAGYKOROS
As of October 8th, all the different packaging formats had been validated under industrial conditions at the Renescure plant. The challenge is alsobeing pursued at the Bordères plant, where work began on October 9thwith the first tests scheduled for October 21st… a record, in just 12 days!In Hungary, the Nagykoros plant will begin installing its new line at the beginning of November, and the first tests and ramp-up are scheduled for November 16-20.Congratulations to the plants and the teams from Sales (Brands,Distributor Brands & Export), Marketing, Supply Chain, Labeling,Purchasing, Costs, I&D, R&D, Management Control and Engineering. We're on track to meet the volumes set out in the roadmap!