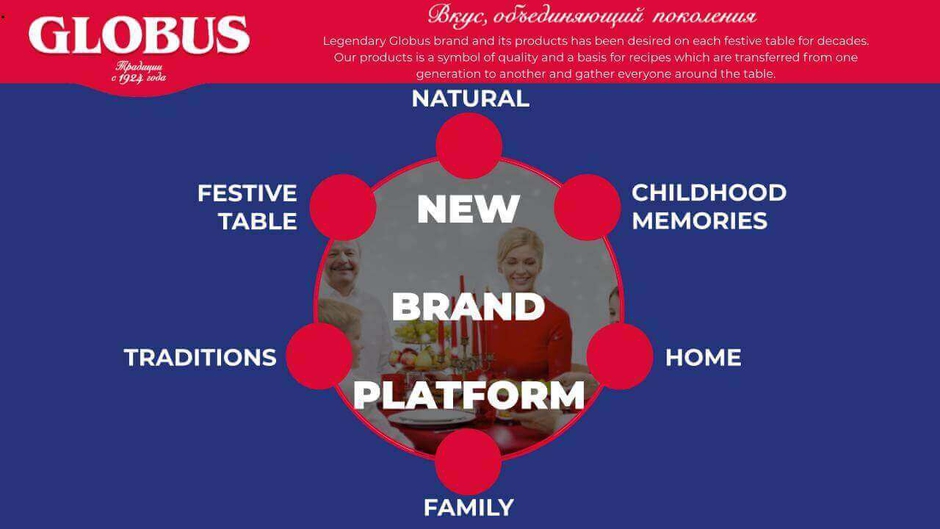 The long-standing European brand founded in 1924 in Hungary is synonymous with good food and celebrations. The brand had good results in Russia&CIS for a long time thanks to its fame, but last few years, GLOBUS started facing greater competition and loosing market share.
GLOBUS has name recognition but is viewed as old-fashioned by consumers: the time has come to make a distinction between Bonduelle and GLOBUS (both present in Russia) and launch rebranded and enlarged range and the first communication campaign for GLOBUS.
GLOBUS: "TASTE THAT BRINGS THE GENERATIONS TOGETHER"
Winning consumers back and getting back into the TOP sales spot with the 35/55 age group: to achieve this ambitious goal, BEAM decided to promote the values and heritage of the brand (quality, traditions, family) in a celebratory atmosphere featuring new products. A new signature was created following reflections on the brand platform: GLOBUS, "taste that brings the generations together", or how to emphasize that despite the passage of time, GLOBUS products are something that all generations will enjoy on all special occasions.
NEW PACKAGING, NEW ITEMS
Concrete evidence of this renaissance comes in more attractive packaging with a revamped logo, images of ready-made meals and emphasis on the product's advantages. Brighter, more eye-catching and modern colors: GLOBUS is taking back its market share! Along with this change on grocery store shelves, the GLOBUS range has been expanded with the launch of 5 new jar items to meet Russian consumers' needs.
GLOBUS MAKES ITS SILVER SCREEN DEBUT
To promote the brand among its target market, BEAM has created a TV campaign to reach the more traditional consumer. The purposely nostalgic and vintage campaign is inspired by the nostalgia for family tradition of getting together around a festive table that was so much present back in 70s and 80s. The entire GLOBUS brand universe has been reinterpreted for the 2020s.
The final part of the plan to reconquer the market is a new site designed to showcase the brand and its products and bring GLOBUS into the digital age.
globus1924.ru : the site for celebratory meals and great products.
As complex result of TV campaign, trade promotions and new products listings in retailers, GLOBUS reached fantastic growth in December 2020 (+106% growth of sales in Volume and 86% growth in Value) and increased its market share. Thanks to TV campaign brand strongly improved its KPIs: GLOBUS has moved from the 5th position to the 3rd in top of mind awareness and spontaneous awareness.